Last man in Fukushima: Matsumura Naoto
Comments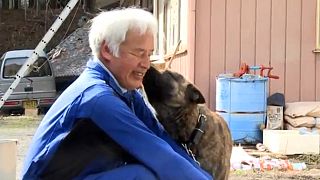 Japan has been marking five years since a massive earthquake and tsunami destroyed towns and triggered the world's worst nuclear disaster since Chernobyl in the 1980s.
Matsumura Naoto has returned to the nuclear exclusion zone to take care of the animals who would otherwise have been left to die.
"As long as I'm here, they won't starve," said Matsumura. "At first I didn't think too much and wasn't expecting to do this for five years. They are live animals, you can't just feed them once and then abandon them."
He's the only person living in the once-thriving community of 16,000 people.
"Nobody can ensure your safety here," he continued. "They said that the radiation was low here, and that we did not need to worry because nothing will happen. But if anything happens, they will definitely not admit to any connection with nuclear radiation. That's how the government runs away from their responsibilities. In their opinion, as long as their duties are done and the place is revitalised, for example, they cleaned the site and built hospitals and hotels, so now it's the problem of the people if they don't want go back home."
Despite the cleaning work in the area, Matsumura said the Japanese government didn't achieve much in helping residents return to their homes.
It looks that he will remain the only man in Fukushima for the foreseeable future.
i just read about naoto matsumura and i'm crying https://t.co/fYgEQB7Wvjpic.twitter.com/0eJP4bdvJ4

— merritt k (@merrittkopas) January 31, 2016