Azerbaijan's president insists low oil price are bringing reforms and diversification
Comments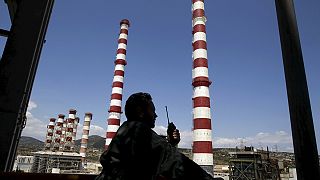 The oil price crisis is hitting producers around the world.
In the long term, if oil prices remain low, it may lead to problems, economic and social problems
Azerbaijan is one of those suffering most with the value of its currency halved in the last year, a sharp economic slowdown and outbreaks of civil unrest.
At the Global Baku Forum President Ilham Aliyev told euronews the economy is being reformed and is diversifying away from dependence on oil: "Actually we have been working on the diversification of the economy for many years, but now that the oil prices are very low this has become our main priority. We've managed to reduce the dependence on oil and gas; now oil and gas is only 30 percent of our GDP, but our target is to create a model of development which will not depend on oil prices. It is happening, we are introducing a broad package of reforms which is supported by the International Monetary Fund and our main concern is areas of the non oil sector, agriculture, IT development, tourism and other sectors. Therefore I'm sure that in the coming years Azerbaijan's dependence on oil will even reduce."
The major goal today is to completely eliminate dependence on oil and gas. Post-oil period has already started for Azerbaijan.

— Ilham Aliyev (@presidentaz) 11 March 2016
With three quarters of government revenue coming from oil and gas exports, the budget has been hard hit.
There have been public protests against rising prices and layoffs – rare events in tightly controlled Azerbaijan.
We asked the president about the impact of low oil prices on global security, particularly in the Middle East: "We do not see a direct ink between the reduction of oil prices and global security, but definitely in the long term, if oil prices remain low it may lead to problems, economic and social problems, because some countries are used to have a lot of revenues from oil sales and when revenues reduce there could be cuts in budgets and therefore, that could happen."
For Aliyev, and other oil dependent leaders, there was some good news on Friday when the International Energy Agency said crude prices may have bottomed out, with higher-cost producers cutting output and Iran's return to the market less dramatic than anticipated.