Turkish First Lady: harem was 'school' for women
Comments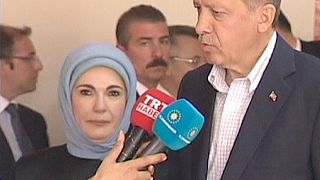 Turkey's First Lady has called the harem of Ottoman sultans a "school" preparing women for life, according to local media.
Westerners often think of harems as the sultan's sexual playground, but Emine Erdogan called it an educational institution for members of the Ottoman dynasty. She was speaking at an official event on Ottoman sultans in Ankara, according to Turkish TV stations.
The sultans who ruled the Ottoman empire for six centuries had a harem at Istanbul's Topkapi Palace, which was turned into a museum after the birth of the Turkish Republic in 1923.
The harem did have strict rules on the recruitment and education of courtesans. Each woman would receive an education in a discipline in which she showed promise – for example calligraphy, decorative arts, music or foreign languages — and the most capable could rise to wield enormous influence over the court.
But Emine Erdogan's comments came under fire on social media, just a day after her husband marked International Women's Day by saying he believed "a woman is above all a mother", which prompted street protests in Istanbul.
The Erdogans regularly speak of their attachment to the values of the Ottoman empire, which collapsed in the early twentieth century. Critics accuse the pair and the conservative government of trying to impose a strict Islam and curtailing women's rights. Erdogan has in the past urged Turkish women to have at least three children and labeled efforts to promote birth control "treason".