Sir George Martin: the man who shaped the Beatles
Comments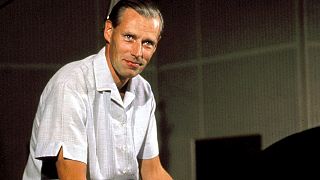 Sir George Martin was a Londoner, the son of a carpenter who studied the oboe, piano and orchestration at the Guildhall School of Music but who is remembered across the globe as the fifth Beatle.
He was behind all the hits of the four Liverpudlian lads and the orchestration of many of their favoured numbers like 'Yesterday'.
"In those days in 1965, 'Yesterday' was recorded and the very first time I ever wrote a score for the Beatles and the very first time that any Beatle recorded by himself. That score was for a string quartet. When we did it, Paul scribbled on it and he said you haven't got my name on it. This is it here and he wrote on the top of it by Paul McCartney, John Lennon, George Martin esquire and Mozart, just his reference to the fact that it was a kind of classical piece of music," he explained.
In 1962 George Martin was the boss of the record label EMI-Parlophone. He signed the Beatles with the bands then manager Brian Epstein and went on to produce more than 700 records.
The titles of them resonate through a generation of what was known as 'pop music'. "Love me do" was one of the first. He shaped the band's music from the raucous to the psychedelic and produced their final and iconic album "Abbey Road". He was one of the first to show a belief in the Fab Four's potential. His advice and arrangements helped to give birth to many of their hits and he was with them as they became a global phenomenon
In a career that spanned seven decades he won six Grammys. His work as a musician extended to many other areas including composing film music while he worked with artists such as Sting and Celine Dion.
Though his background was similar to the Beatles he was often cast in the role of a school master or toff by the boys from the inner city of Liverpool.
"Well the first time I met him, I was very surprised. He was obviously from a classical background and he that sort of demeanour – of a person who was a very sophisticated gentleman, an English gentleman," Yoko Ono once remarked.
Sir George received a knighthood in 1996 and in 1999 was inducted into the Rock and Roll Hall of Fame.
He contributed to many humanitarian causes and helped young talent in the music industry.