Iran threatens Israel with new missile tests
Comments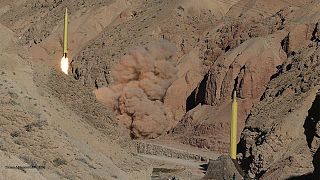 Iran carried out two new ballistic missile tests on Wednesday morning in defiance of renewed threats of sanctions from the United States.
Missiles had been test-fired on Tuesday during a major military exercise carried out by Iran's Islamic Revolutionary Guards Corp (IRGC).
Iranian news agencies, quoting the IRGC, said Wednesday's missile tests were fired from northern Iran and hit targets 1,400 kms away in the south of the country.
It is reported one of the missiles was engraved with a message written in Hebrew: ישראל צריכה להימחק מעל, meaning "Israel must be destroyed."
The IRGC's Brigadier General Amir Ali Hajizadeh told the ISNA agency "The reason we designed our missiles with a range of 2,000 kms is to be able to hit our enemy the Zionist regime [Editor's note: Israel] from a safe distance."
At its closest point, Iran is around 1,000 km from the Israeli cities of Tel Aviv and Jerusalem.
The US has voiced concern over the new tests and fears Iran could equip its missiles with nuclear warheads, something that UN Security Council Resolution 2231 forbids Iran from doing.
Washington said on Tuesday that the latest missile tests do not constitute a violation of the nuclear deal reached with Iran last year, following which international sanctions on Iran were lifted. The US Congress could, however push for more unilateral sanctions on Iran over the missile testing.