Biden slams Palestinian silence
Comments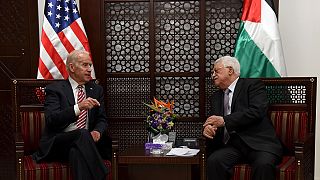 The US Vice President has criticised those who fail to condemn attacks on Israeli citizens.
The United States of America condemns these acts and condemns the failure to condemn these acts
Joe Biden made his comments during a visit to the Middle East that has been overshadowed by violence.
In Jerusalem, Israeli security forces shot and killed two Palestinians they say had opened fire and wounded another man.
A third was shot dead in the West Bank.
The deaths come after a 28-year-old American tourist was stabbed to death on Tuesday.
179 Palestinians, 28 Israelis and 2 US citizens have died since violence began to surge last October.
Tragic attack in Jaffa today, taking the life of an American. There is no justification for such acts of terror.

— Vice President Biden (@VP) March 8, 2016
28-year-old Taylor Force was a former soldier with the US military who had served tours in Iraq and Afghanistan.
11 people were wounded in the attack.
Joe Biden met Palestinian President Mahmoud Abbas in Ramallah.
Biden is angry that the Fatah Party has not spoken out against the violence.
He insisted condemnation must come from the top:
"Let me say in no uncertain terms, the United States of America condemns these acts and condemns the failure to condemn these acts."
Biden has held talks with Israeli Prime Minister Benjamin Netanyahu.
They discussed plans for further US defence aid to Israel.
Congressional aides say Biden is handling the negotations as relations between Netanyahu and Obama are poor.
A surge in violence
Violence has surged since Biden's arrival in Israel on Tuesday as part of a regional tour. Three Palestinians have been killed by Israeli security forces.
Palestinian leaders say many Palestinian attackers act out of desperation in the absence of a committed plan to create an independent state.
Israel claims they are being incited to violence by their leaders and on social media.
28 Israelis and two US citizens have died in the violence, which began last October. At least 179 Palestinians have been killed, 121 of whom Israel says were attackers. The others died during protests.
Biden also met Palestinian President Mahmoud Abbas before travelling on to Jordan.