Alcohol ban hits Spanish resort island of Mallorca
Comments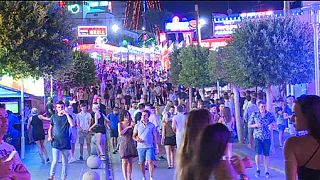 The popular Spanish tourist island of Mallorca has brought in a night time booze ban.
The sale of alcohol in shops, vending machines and from street sellers is now forbidden in several areas between midnight and eight a.m.
One tourist said: "Personally I do not think that it is a good law [that] they impose for the locality because of the consequences [are negative] for the jobs, the activity [and] persons who live with this form of tourism."
The areas – Palma Beach, Can Pastilla, El Jonquet, Paseo Maritimo, Son Armadams, Plaza Gomila and El Terreno are now designated special enforcement areas where the police have more powers to control people drinking in the streets.
The fines which start at 1,500 euros can be substituted for education courses conducted by the Palma Municipal Police.
The measure was introduced after complaints that tourists were often behaving badly.