Mexico accuses Donald Trump of sounding like a dictator
Comments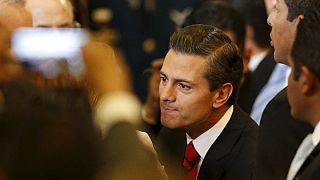 Mexico's president has likened the strident tone of White House hopeful Donald Trump to that of dictators Hitler and Mussolini
President Enrique Pena Nieto's also rejected Trump's plans to make Mexico pay for a wall on its border to keep out illegal immigrants. The comments are the most critical yet by a foreign leader of the billionaire.
Trump, who has also aroused concern among many in his own party with his proposals, has accused Mexico of sending rapists and drug runners across the border and vowed to increase fees on some Mexican visas and all border crossing cards to help make Mexico pay for the wall.
Pena Nieto attacked the "populism" of the Trump campaign, which he said sought to put forward "very easy, simple solutions to problems that are obviously not that easy to solve."
"That's how Mussolini got in, that's how Hitler got in, they took advantage of a situation, a problem perhaps, which humanity was going through at the time, after an economic crisis.
In spite of his comments, Pena Nieto stressed that his administration will seek to reach agreement and maintain a respectful relationship with whoever wins the U.S. presidency.