China's February trade weak - exports and imports both down
Comments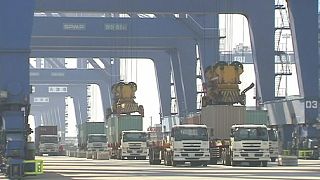 China's February trade numbers were much weaker than expected.
Exports from the world's largest trading nation tumbled by the most in over six years – down 25.4 percent from a year earlier.
Imports slumped 13.8 percent, the 16th straight month of decline.
Economists pointed out the data may not be as bad as it first appears as business activity was sharply reduced by the timing of the long Lunar New Year holiday, which it had not been in the same period last year.
"Exports were very strong last year in February because the Lunar New Year started so late and much of the usual disruption from the holiday was pushed into March. So the implication is that we'll probably see a significant reversal and a stronger number next month," said Julian Evans-Prichard, China Economist at Capital Economics in Singapore.
The news had a negative effect on global stock markets and pulled down the prices of oil and metals.
Global stocks drop on renewed concerns about #Chinahttps://t.co/jvpyKGMNek

— Pedro da Costa (@pdacosta) 8 March 2016
Tough battle ahead
This comes as China's leaders seek to reassure investors the outlook for its economy remains solid.
After missing trade goals repeatedly in recent years, China's leaders did not give an estimate for trade growth in 2016 when they set out key economic targets in parliament on Saturday, reflecting deep uncertainty about global demand.
Commerce Minister Gao Hucheng said last month that he was confident that China's trade conditions would stabilise and improve in 2016, though most analysts see no improvement in sight.
China's leaders set an economic growth target of 6.5 percent to 7.0 percent for 2016 as they opened the annual session of parliament last week, compared with 6.9 percent last year, the country's slowest expansion in a quarter of a century.
Premier Li Keqiang acknowledged in parliament on Saturday that leaders face "a tough battle" to keep the economy growing by at least 6.5 percent over the next five years, while pushing hard to create more jobs and restructuring state-owned enterprises.