London Stock Exchange profit jumps, detailed talks about Deutsche Boerse merger continue
Comments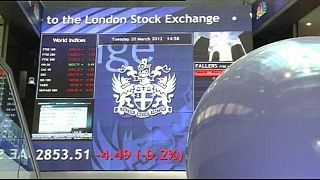 The London Stock Exchange Group has reported a 31 percent jump in adjusted pre-tax profit for 2015.
That was just short of what analysts were hoping for and its share price fell on Friday.
Announcing the results LSE – which also owns Borsa Italiana – said detailed discussions are continuing with Germany's Deutsche Boerse about a merger.
It called the logic of a tie-up between the two "compelling"with substantial revenue and cost benefits for the pan-European trading powerhouse it would create.
LSE's chief executive Xavier Rolet promoted it as a true merger of equals.
Intercontinental Exchange, which owns the New York Stock Exchange, is also considering a bid.
Deutsche Boerse and the London Stock Exchange are making a third attempt at getting together to take on US rivals encroaching on their turf.
Nearly 16 years after their first merger attempt, the London and Frankfurt exchanges are discussing an all-share deal giving Deutsche Boerse shareholders a 54.4 percent stake and LSE shareholders 45.6 percent of a new company.
It would combine the LSE's share-trading operation with the derivatives trading of Deutsche Boerse's Eurex in a group worth almost $30 billion (27.4 billion euros). It would give the companies similar scale to Intercontinental Exchange, which has taken a huge slice of the European derivatives markets.