Italy's GDP growth remains feeble
Comments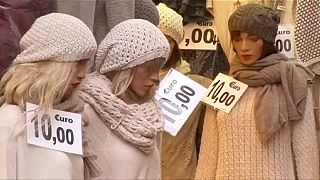 It has been confirmed Italy's economy grew by just 0.1 percent in the final three months of last year from the previous quarter.
That final estimate matched last month's preliminary calculation and means gross domestic product was up 1.0 percent year-on-year the national statistics bureau ISTAT reported.
That was not as good as the eurozone average which showed a 0.3 percent gain in the fourth quarter and a 1.5 percent increase year-on-year.
Italy's positives included rises in household consumption, investments and net exports, but increased inventories held back growth.
Prime Minister Matteo Renzi's government is officially forecasting growth of 1.6 percent this year for the eurozone's third-largest economy, but recent data has been disappointing and Renzi has already indicated the target is probably out of reach.
The Organisation for Economic Cooperation and Development forecast last month that Italy would post 2016 growth of no more than 1.0 percent.
OECD cuts Italy's 2016 growth forecast https://t.co/4s0kCJJ3ET | https://t.co/uUsTqqCldzpic.twitter.com/I4mBPH3jAZ

— matteo (@MatteoCurdi) 23 February 2016
In 2015, Italian GDP expanded 0.8 percent, returning to growth after a three-year recession.
Chronically slow growth and stagnant prices are making it harder for Italy to cut its debt. The budget deficit came in at 2.6 percent of GDP last year, ISTAT said, inside the European Union's 3.0 percent ceiling and exactly in line with the government's target.
The country's banks are also suffering from the large amount of bad debt they are carrying.