Video: An eventful day on the waves
Comments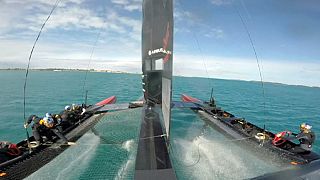 It has been an eventful period in the world of sailing this week as this video will show.
America's Cup champions Oracle Team USA hit some trouble on the waves in Bermuda on Wednesday in their preparation for their Louis Vuitton World Series race in May.
Fortunately there were no injuries to the six sailors aboard although their pride took a little bit of a knock.
Elsewhere Danish skipper Joachim Aschenbrenner capsized in the World Match Racing Tour's first event using the exciting M32 catamarans.
The young skipper turned over right in front of the beach, almost taking out another boat with his forestay.
The Danish crew escaped unscathed and amazingly the boat was righted within minutes with the team able to resume racing.