Ukrainian pilot on trial in Russia starts dry hunger strike
Comments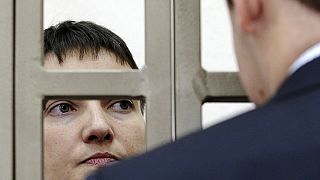 A Ukrainian Air Force pilot on trial in Russia has begun a dry hunger strike to protest at the length of what she says is an unjust legal process.
Nadezhda Savchenko is facing charges of complicity in the killing of two Russian journalists.
Her arrest in 2014 and defiant stance have make her a national hero in Ukraine where she is considered a political prisoner.
Russian prosecutors say Savchenko intentionally targeted civilians while attacking rebel positions in June.
They allege that Savchensko, who had transferred from the air force to fight with Ukrainian ground forces, helped to direct the fire of Ukrainian artillery in the Luhansk region.
Two Russian television reporters were killed by a shell as a result.
Russian officials deny smuggling Savchenko across the border after she was captured.
Savchenko was elected a member of Ukraine's parliament during her imprisonment. If found guilty, she faces up to twenty-five years in prison.
She denies any wrongdoing.