Spain's Princess Cristina testifies in tax fraud trial
Comments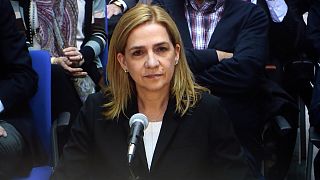 Spain's Princess Cristina told her tax fraud trial on Thursday (March 3) she had no knowledge of financial matters because her husband took charge of their accounts.
Prosecuters are looking into whether a charity ran by her husband Inaki Urdangarin embezzled millions of euros in public funds.
Cristina told the televised trial in Mallorca she had no role in the couple's company, adding she simply signed papers when asked to without questioning how it was managed.
"My husband has explained the issue about the credit card. He was offered the card and he accepted it, but he was in charge of it, as he previously said. I don't remember having used it," Christina said.
When asked by her lawyer why she took "50 percent of the social capital of the company," she said: "My husband asked me to do so and I accepted. He was the administrator and he always took the decisions being advised by his tax advisor."
She told the court that she had no knowledge of financial or tax matters in general. The couple deny any wrongdoing in the case.
Urdangarin is accused of nine crimes including fraud and tax evasion and could face up to 19 and half years in jail if found guilty.
Cristina is the first member of the Spanish royal family to face trial.
She is charged with two counts of being an accessory to tax fraud and could face up to eight years in prison.
Spanish Princess Cristina talks fraud, credit cards and expenses in court https://t.co/rjW4YLgE1h

—

POLITICO

Europe (@POLITICOEurope) March 3, 2016