Rating agency Moody's downgrades its outlook on China's debt
Comments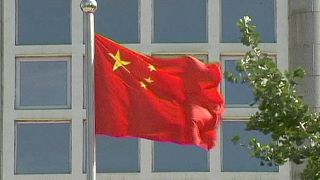 Chinese government debt is causing concern to Moody's. The rating agency has downgraded its outlook on that debt to 'negative' from 'stable'.
The reason is uncertainty over Beijing's' capacity to carry out economic reforms, coupled with rising government debt and falling foreign currency reserves. Those reserves have shrunk by $762 billion (702 billion euros) over the last 18 months.
"Without credible and efficient reforms, China's GDP growth would slow more markedly as a high debt burden dampens business investment and demographics turn increasingly unfavourable. Government debt would increase more sharply than we currently expect," Moody's said.
Moody's did however retained China's Aa3 rating, noting the country's sizeable reserves do give it time to implement reforms and gradually address economic imbalances.
#China Credit Outlook Cut to Negative From Stable by Moody's https://t.co/a9wFjstd8rpic.twitter.com/Nutt0c2Ytl

— Pedro da Costa (@pdacosta) 2 de março de 2016
The downgrade comes as economic growth slows and just days before China unveils its next five year plan. The economic development blueprint for the next five years is expected to include reforms, including laying off workers from state companies.
Moody's warned that it could further downgrade China's rating if it saw slowing down of the reforms needed to support sustainable growth and to protect the government's balance sheet.
A major rationale for the downgraded outlook, Moody's said, was the large stock of contingent sovereign liabilities such as state-owned corporations' debt, local government debt, and the debt of China's big "policy" banks – the Agricultural Development Bank of China, China Development Bank, and the Export-Import Bank of China.
Outlook for China's Aa3 rating changed to negative from stable https://t.co/e39×7T5c0i

— Moody's Ratings News (@moodysratings) 2 March 2016