Online abuse sours Hollande's use of live video application Periscope
Comments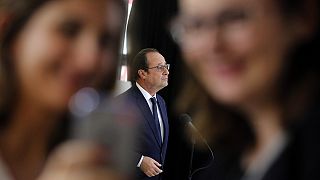 Social media has proved a useful tool for the powerful to reach their target audience, without the inconvenience of having journalists verify or challenge what they say.
Delve deep into Twitter, for example, and most governments of the world will have PR experts managing the spreading of their messages.
So, with all this power at their fingertips, what can possibly go wrong?
Well, if you're French president Francois Hollande, sometimes your PR people start using new tools without thinking through their pitfalls.
The Élysée began using Periscope, a tool that allows users to post live video while its watchers comment in real-time on what they see.
Hollande's communications team filmed his recent meeting with workers at showroomprive.com.
While the discussion with the workers was courteous, the messages appearing live on Periscope from the public were anything but.
Hollande's team, unable to moderate what was being published, were forced to watch as comments such as 'Hollande: get out', and worse, appeared on screen.
The Élysée press team said on Twitter it was not a mistake and vowed to continue using the application.
Merci de nous avoir suivi ce matin sur periscopeco</a>, comme si souvent depuis un an. Prochaine diffusion demain pour la <a href="https://twitter.com/hashtag/Paris?src=hash">#Paris</a> <a href="https://twitter.com/hashtag/FTTicket?src=hash">#FTTicket</a></p>&mdash; Élysée (Elysee) 1 de marzo de 2016
They did, with the same result.