UN airdrop in Syria goes 'off target'
Comments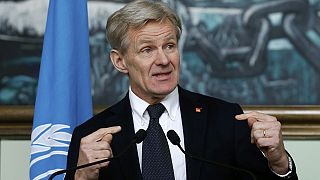 The United Nations says the planned ceasefire due to come into force in Syria this weekend is set to rescue the population from "the abyss" and end the "black chapter" of sieges.
UN convoys have already been delivering aid to the town of Kafir Batna, in a rebel-held area near Damascus – and other besieged areas.
In Geneva senior UN officials outlined what had been achieved so far in terms of aid getting through.
"110,000 people, almost 200 trucks, yesterday the beginning of a test on airdrops in order to reach 200,000 people: we are talking about serious changes from before," said the UN's Special Envoy for Syria, Staffan de Mistura.
Following Russian airdrops over the eastern city of Deir al-Zour, partly besieged by ISIL, a UN plane tried to deliver more food and medical supplies this week.
But the UN and the World Food Programme now acknowledge that the operation didn't go to plan.
"There were two problems: pallets were drifting in with their parachutes, so that some missed targets and others of the pallets (ie in the case of the other pallets) the parachutes did not open and the food were (was) destroyed," said the UN's Humanitarian Advisor for Syria, Jan Egeland.
Amid concern over exactly where the aid ended up, officials said adjustments were now being made but that they would try again.
On Friday the UN is to name a date for a new round of peace talks, and the International Syria Support Group is to hold a meeting of its ceasefire taskforce.
Despite many obstacles there's hope that a halt to the fighting could further boost the delivery of humanitarian aid.