Turkey: detained journalists expected to be freed, still face trial
Comments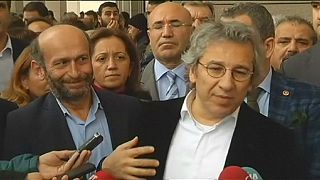 Turkey's Supreme Court ruled on Thursday (February 25) that the detention of two prominent opposition journalists had "violated their rights."
Can Dundar, the editor-in-chief of the Cumhuriyet newspaper, and Erdem Gul, the paper's Ankara bureau chief, are facing trial, but are expected to be released from custody.
The ruling found that the November arrest of the journalists was "not lawful" and that "the ruling should be sent to the relevant court to overturn this breach."
Dundar and Gul were detained after they published a report alleging that Turkish intelligence officials transported arms to rebels in Syria in 2014.
Turkish President Recep Tayyip Erdogan accused the Cumhuriyet of trying to undermine the country's reputation and calling for the journalists to face consequences.
Dundar and Gul journalists are facing charges – which they deny – of aiding a terrorist organisation and compromising state security.
Following the Supreme Court's ruling, Cumhuriyet's lawyers applied for the journalists' immediate release.
"The Constitutional Court has ruled that there is a rights violation. An immediate appeal will be made […] We are expecting their release," Tahir Ozyurt, Cumhuriyet's acting editor-in-chief, told Reuters.
Dundar and Gul will still stand trial over the charges. They face life sentences if convicted.