Italian Senate approves watered-down bill allowing civil unions
Comments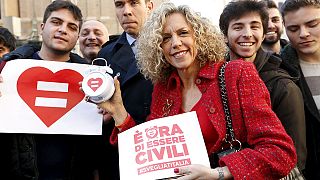 It was fiercely opposed by the Catholic Church and opposition parties, but Italy is closer to having a new law on civil unions for same-sex and heterosexual couples.
The Italian Senate has approved a watered-down bill after the government used a confidence motion on the issue.
Because of opposition from within his own centre-left coalition, Prime Minister Matteo Renzi was forced to take an article on adoption rights out of the bill.
The lower house still has to vote on the bill, but it is expected to pass easily.
Italy is the last major Western country that does not recognise the status of unmarried couples, whether heterosexual or homosexual.
In 2007 a draft bill was put forward by the centre-left government of Romano Prodi but it never saw the light of day.
This time though, the Cirinna bill, named after the senator who wrote it, has passed the political hurdles.
However, much to the anger of gay rights groups, the Italian law approved by the Senate has been watered down.
In a compromise with Catholic parliamentarians, an article that would have given civil union partners the right to adopt each others' children was taken out.
#CivilUnion bill passes Italian #Senate but children in rainbow families get left behind. Our reaction here: https://t.co/VEw54woBhe#Italy

—

ILGA

-Europe (@ILGAEurope) February 25, 2016
But the new law will give hundreds of thousands of unmarried couples other rights, despite strong criticism from the Catholic church and opposition parties.
The rights will include civil partners inheriting each others' pensions and a residence permit for a foreign partner.
The law progressed even though the Pope recently voiced the church's opposition to gay marriage, saying there's "no possible confusion between the kind of family wanted by God and any other kind of union".
Italy's lack of legal protection for same-sex couples was regularly condemned by top European courts, and recent opinion polls suggested that 70 percent of Italians were in favour of a new law.
Italy's Senate overwhelmingly approves civil unions for gay couples https://t.co/XdZYduZCEt

—

TIME

.com (@TIME) February 25, 2016
Massive shame gay adoption is out of the bill but at least there's progress being made towards civil unions in Italy https://t.co/jsHMcj6PFn

—

LGBT

Humanists (@LGBTHumanistsUK) February 25, 2016