Iran elections: reformists build momentum - view from Tehran
Comments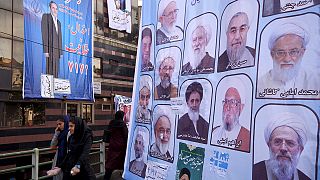 On Friday elections take place that will shape the future of Iran for at least a decade.
Hardliners and moderate candidates will vie for seats in parliament and a separate assembly of clerics which will choose the country's next supreme leader.
The presidential election isn't due until next year. President Rouhani's reformist government is run by moderates, but other institutions such as parliament are still dominated by conservatives.
Some 12,000 candidates registered for the parliament, but all have to be vetted and more than half have been disqualified by the hardline Guardian Council.
The president's allies hope to build on Iran's nuclear deal which led to the lifting of economic sanctions, and attract more investment.
But opposition to reform among conservative allies of the country's supreme leader have intensified the political infighting.
Euronews' correspondent in Tehran, Javad Montazeri provided an overview of the political landscape as Iranians prepared to go to the polls on Friday (26 February) in elections that will be key to Iran's direction following the nuclear deal.
Maria Sarsalari, euronews: What have been the highs and lows of the campaign period during the weeks, and most importantly the last few days, leading up to the elections.?"
Javad Montazeri, euronews correspondent in Tehran: "There are two important elections being held: one for the parliament, and one for the Assembly of Experts. More than 12,000 people initially registered to be candidates for the parliamentary elections, but over half of these were disqualified by the Guardian Council – most them were close to the reformist movement. However, the reformist movement has said that this will not stop it campaigning hard. We saw this last week when we observed big election campaigns by the reformists, competing with the conservatives' campaigns. The reformists maintain that if there is a big turnout, then they will still win even if they are left with second or third level reformists. The emergence of a third movement, known as the 'moderation' faction, is also an important point. We can see that prominent figures belonging to the conservative movement are not on conservatives' list of candidates. Instead, we see their names in the 'moderation' faction, which is close to the reformists. The Parliamentary Speaker, Ali Larijani – a prominent conservative figure – is not on the conservative list. He has, instead, opted to stand as an independent candidate."
Maria Sarsalari, euronews: "In spite of all this, many people have decided to go to the polls anyway. What is at stake?"
Javad Montazeri, euronews correspondent in Tehran: "Well, as you know, these are the first elections held in Iran since the nuclear deal. The lifting of sanctions will provide many opportunities for the improving Iran's economy. The conservatives have been in control of Iran's political institutions for around 10 years. The government and the so-called 'moderation' movement are trying to change this. After the presidental elections in 2013 that brought Hassan Rouhani to power, the reformists are now trying to gain control of parliament, so that they can form a parliament in line with his government. By doing this, they can push forward the policies Rouhani has planned for improving the economic and political situation."