Libya: Islamist fighters are pushed back in Benghazi
Comments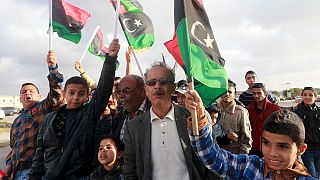 Relieved residents have been celebrating in Benghazi after Islamist militants were forced out of parts of the eastern Libyan city by forces loyal to the internationally recognised government.
The victory for supporters of military commander Khalifa Haftar, a leading figure in the 2011 revolution, comes despite fears over ISIL's expanded presence in Libya, exploiting the security vacuum left when Colonel Gaddafi was toppled.
Benghazi has seen some of the worst violence in the conflict that has plagued Libya ever since. The country still has two rival administrations although a UN-backed plan for a future unity government is starting to take shape.
In the meantime, the US special envoy to the coalition fighting ISIL, Brett McGurk, warned on Tuesday that the group is trying to attract as many foreign fighters to Libya as possible.
The Islamic State's branch in Libya is deepening its reach across a wide area of Africa. https://t.co/183jderQdIpic.twitter.com/WHGfkF6hAN

— New York Times World (@nytimesworld) 22 Février 2016
A US air strike hit a suspected training camp last week and McGurk says the United States won't hesitate to act in the face of other threats there.
The United States will continue to go after #ISIL whenever necessary, using the full range of tools at our disposal. #Libya#Sabratha#ISIS

— Brett McGurk (@brett_mcgurk) 19 Février 2016