Bodies of killed Serbian hostages returned home from Libya
Comments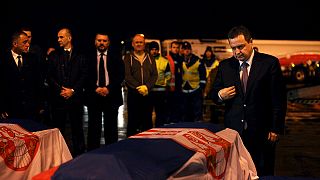 The bodies of two Serbian embassy workers, believed to have been killed in US airstrikes in western Libya, have been flown back home.
The remains of communications officer Sladjana Stankovic and driver Jovica Stepic landed in Belgrade on a regular flight from Turkey, to where they had previously been transferred from Libya.
They died on Friday, while being held hostage at an ISIL camp targeted in the strikes.
Serbia has asked America for an explanation of what happened.
Stankovic and Stepic were abducted in November after their diplomatic convoy came under fire near the coastal Libyan city of Sabratha.