US Congress to vote on plans to close Guantanamo
Comments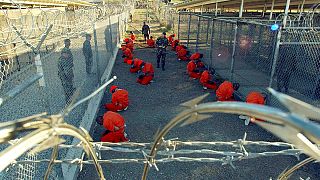 US President says he will close Guantanamo
91 people still held at facility
Congress firmly against plan
US President Barack Obama says he plans to close the controversial Guantanamo Bay detention facility.
I am absolutely committed to closing the detention facility at Guantanamo
.WhiteHouse</a> outlines <a href="https://twitter.com/hashtag/Guantanamo?src=hash">#Guantanamo</a> closure plan amid Republican resistance <a href="https://t.co/LKuhpNgdL6">https://t.co/LKuhpNgdL6</a> (Reuters pic) <a href="https://t.co/Nf7vMh0f3e">pic.twitter.com/Nf7vMh0f3e</a></p>&mdash; China Xinhua News (XHNews) February 23, 2016
As Obama announces his plan to close Guantanamo, a look inside the prison: https://t.co/igV8siMV3rpic.twitter.com/y587O4VNhf

— Reuters Top News (@Reuters) February 23, 2016
91 people are still being held at the jail in Cuba.
The Pentagon plans to transfer them to their home countries or to US military or civilian jails.
However, Congress is firmly against the move and is likely to block it.
What Obama said
US President Barack Obama made the announcement during a press call at the White House.
"This is about closing a chapter in our history, it reflects the lessons that we have learned since 9/11."
"I don't want to pass this problem on to the next president, whoever it is. And if as a nation we do not deal with this now, when will be deal with it?"
"With this plan we have the opportunity finally to eliminate a terrorist propaganda tool, to strengthen relationships with allies and partners, enhance our national security and most importantly uphold the values that define us as Americans. I am absolutely committed to closing the detention facility at Guantanamo."
Reactions
#GuantanamoMUST be closed by addressing problem head-on NOT moving it somewhere else https://t.co/dyTzliBLVb#Obamapic.twitter.com/ha01Ia4kLk

— AmnestyInternational (@amnesty) February 23, 2016
We welcome the plan to close #Guantanamo & hope no further obstacles are placed in the way of its implementation pic.twitter.com/QwDARv0Msy

— UN Human Rights (@UNHumanRights) February 23, 2016
Obama's Guantanamo plan would bring 30-60 detainees to U.S. https://t.co/DS0DitlIy9pic.twitter.com/9PZky4dakH

— Bloomberg Business (@business) February 23, 2016