Who is the global leader for importing major weapons?
Comments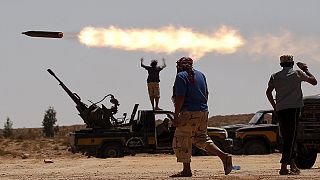 The global supply of major weapons has increased 14 percent in the last four years, say the Stockholm International Peace Research Institute.
Detailed figures from the weapons watchdog reveal the worldwide supply of arms has been on a general upward trend since 2002 (see graphic, bottom).
Saudi controversy
Saudi Arabia, currently leading an offensive in Yemen and said to be supplying weapons to rebels in Syria, was the second biggest importer of weapons over the last four years.
Its share of global imports of major weapons – including missiles, warplanes, submarines and air defence systems – has risen from 2.1 percent (2006-2010) to 7 percent (2011-2015).
Combined, the US and UK supplied more than three-quarters of Saudi Arabia's major weapons imports.
This has caused controversy in both Washington and London, amid accusations the bombs have targeted civilians.
Iraq – fighting ISIL and with western forces' presence there greatly reduced – has seen its imports grow 83 percent over the same period.
War-torn Syria has seen imports fall in recent years, a trend SIPRI says is due to the Assad regime not having any money left to bring in major weaponry.
Aggressive Asia?
India was the biggest importer of weapons, while China, Pakistan, Vietnam and South Korea all make it into the global top ten for buying in arms.
The Asia and Oceania region accounted for 46 percent of global imports, compared with 25 percent for the war-hit Middle East.
SIPRI puts India's rising demand down to the fact it's not very good at producing its own weapons, in contrast to its regional rival China, which is importing less as a result.
India is interesting in that it's the only importer in the global top ten that counts both the US and Russia among its three biggest suppliers.
Vietnam's arms imports rose 699 percent from 2006-2010 and 2011-2015, a trend SIPRI puts down to its territorial claims in the South China Sea.
Europe: crisis, what crisis?
While the storm clouds loom over the future of the EU's Schengen free-movement zone, there is reason for Europe to be cheerful. The region's share of arms imports has dropped in the last four years, falling from around a fifth of the global pie between 2006-10, to just 11 percent since 2011.
SIPRI says the 41 percent drop is down to the financial crisis, causing two of the worst hit countries, Greece and Spain, to cut their spending.
Who are supplying all the arms?
While Europe is buying less weaponry, the western part of the continent at least, is a major supplier.
Share of global arms exports
Biggest clients (% of exporter's total exports)

USA

33%
Saudi Arabia (9.7);

UAE

(9.1); Turkey (6.6)
Russia
25%
India (39); China (11); Vietnam (11)
China
5.9%
Pakistan (35); Bangladesh (20); Myanmar (16)
France
5.6%
Morocco (16); China (13); Egypt (9.5)
Germany
4.7%

USA

(13); Israel (11); Greece (10)
UK
4.5%
Saudi Arabia (46); India (11); Indonesia (8.7)
Spain
3.5%
Australia (29); Saudi Arabia (12); Turkey (8.7)
Italy
2.7%

UAE

(10); India (8.8); Turkey (8.2)
Ukraine
2.6%
China (26); Russia (12); Ethiopia (9.2)
Netherlands
2%
Morocco (17); Jordan (12);

USA

(7.7)
France, Germany, the UK, Spain and Italy accounted for 21 percent of global arms transfers from 2011-2015.
The USA and Russia are increasingly the biggest suppliers of major weapons, combined they doled out nearly 60 percent of global totals.
The USA's biggest three clients over the last four years have been Saudi Arabia, United Arab Emirates and Turkey, while Russia's were India, China and Vietnam.