Australian authorities decide to deport 'Baby Asha'
Comments
By
Sarah Taylor
with
Reuters, Time, Huffington Post Australia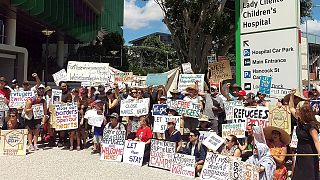 Australian officials have come under fire over the contentious case of Asha, a baby born in Australia to Nepalese parents.
It has been decided that she and her family will be deported back to a detention centre on the Pacific island of Nauru — some 3,300 km away — angering groups calling for them to be granted asylum in Australia.
Why Australia wants to send #babyasha to a detention camp miles from the country https://t.co/PvGnlaAVospic.twitter.com/s8iyHbANbF

— Newsweek (@Newsweek) February 22, 2016
In January 'Baby Asha', as she's being called, was flown from Nauru to a hospital in Brisbane to be treated for severe burns, which were suffered accidentally, according to local media.
Government officials were worried her case would set a precedent for future asylum applications.
Australia's Immigration Minister, Peter Dutton, said:
"This family will be treated the same as the next family that we consider will be treated. And that is what you would expect because we are not going to allow people smugglers to get out a message that if you seek assistance in an Australian hospital that somehow is your formula to becoming an Australian citizen."
#auspol#BabyAsha will be returned to Nauru: Peter Dutton https://t.co/RIaMpDelEzpic.twitter.com/M8g6WgnN6s

— The Age (@theage) February 21, 2016
Medical staff at Brisbane's Lady Cilento Children's Hospital refused to discharge Asha if she was to be sent straight back to the centre, saying she requires a "suitable home environment."
Following an outpouring of public support, Dutton had Asha and her family temporarily moved to an Australian community detention facility, which allows some freedom of movement.