Sole candidate Lagarde re-elected to second term as International Monetary Fund head
Comments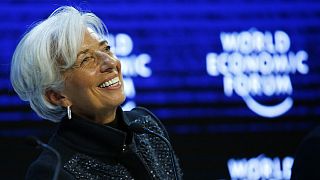 Christine Lagarde has been re-elected to a second five-year term as Managing Director of the International Monetary Fund. She was the only candidate and was elected "by consensus".
She starts her new five year term in July with the world's economy in the doldrums, and the IMF facing difficult loan decisions for Greece and Ukraine.
Speaking with reporters after her reelection was announced, Lagarde warned the world's richest countries to be careful about the economic spillovers from their policy decisions.
She said: "The G20 I think, is going to have to focus on spillovers, on spillbacks and on the combination of various policies in play at the moment."
Lagarde said that at the moment, the "asynchronicity" of US, Japanese and European monetary policies needed to be reviewed and practices better coordinated. She also said that G20 ministers should examine the interactions of their countries' fiscal policies and structural reform moves.
By better coordinating these policies, the major economies can improve market confidence and limit the spillovers on the rest of the IMF's 188 member countries, she said. Currently, many oil- and commodity-exporting countries are experiencing financial difficulties as the Chinese economy slows.
G20 finance ministers and central bank governors are due to meet in Shanghai, China next week
During her first five years Lagarde was deeply involved in the Fund's efforts to counter Europe's sovereign debt crisis.
She also implemented changes so that countries such as China and Brazil gained greater influence.
In a statement the IMF's executive board said they were impressed with Lagarde's "strong and wise leadership". The statement continued: "During turbulent times in the global economy, Ms. Lagarde strengthened the fund's ability to support its members."
The former French politician and international lawyer took over as head of the IMF in 2011 after Dominique Strauss-Kahn resigned in disgrace.
Lagarde still faces legal action in France. She faces charges of "negligence" over a financial settlement the French government reached with businessman Bernard Tapie when she was finance minister. Lagarde has protested her innocence, and is appealing against the decision to put her on trial.