Haryanto to make history with F1's Manor Racing
Comments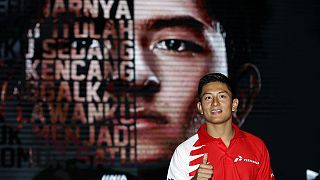 Rio Haryanto will become Indonesia's first Formula One driver this season after raising the funds to secure a seat with backmarkers Manor Racing on Thursday.
The 23-year-old, who may need to secure additional financial backing if he is to see out the full 21-race season, will make his debut in Australia on March 20 and will start testing in Spain next week.
"Melbourne will be a huge moment for me, my country, supporters and fans and I want to thank everyone who's been with me since I started in single seaters; 2016 is my chance to reward that faith and represent Asia in F1," Haryanto said.
His signing as team mate to German rookie Pascal Wehrlein completes the grid for the 2016 season.
Haryanto, fourth in the GP2 feeder series last season with three race wins, will be the third Southeast Asian driver to compete in Formula One since the championship started in 1950.
The others were Malaysian Alex Yoong, with Minardi in 2001-2002, and Thailand's Prince Bira (Birabongse Bhanudej) in the 1950s.
Haryanto was already the first Indonesian to drive a Formula One car, having tested with Manor's predecessors Virgin Racing in 2010.
The Indonesian's arrival in Formula One spells disappointment for Britain's Will Stevens, American Alexander Rossi and Spaniard Roberto Merhi, who all raced for Manor last season when the team was known as Marussia.
"Rio's huge following in Indonesia is great for the team and for F1. They are keen to see him on the grid and we're confident that we'll see him enjoying some exciting battles in the year ahead," Manor owner Stephen Fitzpatrick said.
Manor failed to score a point in 2015 but have rung the changes since then, with new management and drivers as well as Mercedes engines in place of ageing Ferrari ones.
Haryanto's place had depended on raising funds in Indonesia, with Manor seeking 15 million euros ($16.71 million) according to local media.
The driver has been backed by state-owned oil and gas company Pertamina in the junior series and chief executive Dwi Soetjipto told a news conference they were contributing five million euros ($5.55 million).
He said Pertamina were "proud to support him as he represents Indonesia on the global stage".
Haryanto's manager Piers Hunnisett said more Indonesian companies were interested in sponsoring Haryanto, as were others from Japan and Malaysia, but gave no details.
"We will find a way to have him stay through the season," Hunnisett said.