Federal Reserve reveals slowdown worries
Comments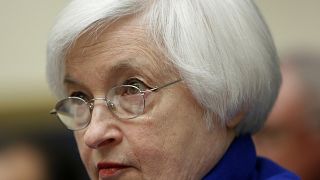 The minutes of last month's meeting of the Federal Reserve's policymakers reveal they were worried that a global slowdown and financial market sell-off could hurt the US economy.
Because of that they considered changing the central bank's interest rate hike plans for 2016.
However most of the policymakers still expected to raise the cost of borrowing there this year.
And we learn that they even discussed putting up interest rates at their meeting in late January as they were divided over how to interpret the volatility in the financial markets.
According to the minutes, a number of Fed policymakers said the moves in financial markets in January "were difficult to reconcile" with signs of underlying US economic strength.
But many of them saw growing risks to the economy and some said the financial market stress may be "roughly equivalent" to further monetary policy tightening, which would reduce the need for rate increases.
Last December the Fed signaled it was looking at four rate hikes for this year, but Wall Street's skepticism that the central bank would raise rates at all this year increased after the release of the minutes.
Since the January meeting Fed Chair Janet Yellen has said last week they still expected to raise rates gradually in 2016 but acknowledged a weakened global economy and a steep slide in stock markets was tightening financial conditions faster than the Fed wants.