Violence and vote rigging threatens Ugandan ballot
Comments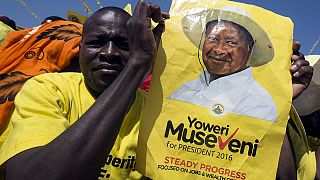 Uganda prepares to go the polls with incumbant president Yoweri Museveni seeking a fifth term in office.
Uganda's once-promising President Yoweri Museveni reverts to form https://t.co/d0MdmgRzEPpic.twitter.com/5Ur62Blmdl

— Wall Street Journal (@WSJ) February 15, 2016
The 71-year-old, an ally of the West, came to power in 1986 and oversees a nation where 64 percent of the working age population under 24 are without jobs, the African Development Bank puts the number at 83 percent.
Use phones to protect votes, Kizza Besigye to supporters https://t.co/8Zf9VNnAXf#UgandaDecides#Chechepic.twitter.com/RFAmwvNDKm

— Citizen TV Kenya (@citizentvkenya) February 17, 2016
This time round Museveni faces a tougher task with opposition leader Kizza Besigye, who has lost the three previous elections, claiming the "the overwhelming enthusiasm for change" has spooked Museveni and will result in a rigged vote.
The three main candidates Museveni, Besigye and former prime minister Amama Mbabazi have all staged final campaign rallies ahead of Thursday's ballot.
The campaigns are over and I hope you keep the fire burning for change. pic.twitter.com/8X8r6CYphE

— Amama Mbabazi (@AmamaMbabazi) February 17, 2016
Dr Ndebesa Nyamwasya is a political commentator and sees the potential for violence: "Would there be post election violence? There is a likelihood of that taking place. The electoral commission in Uganda, which is in charge of managing the election, is not trusted by the opposition, The results of the election may not be accepted by the opposition in case they lose."
Even before any vote has taken place police fired teargas at a campaign rally held by Besigye and briefly held the challenger.
One person killed as tensions rise before Uganda's election https://t.co/OU1rUuKrRjpic.twitter.com/yqU5yS6EsH

— Newsweek (@Newsweek) February 16, 2016
BREAKINGNEWS: #Uganda arrests opposition leader, Kizza Besigye, days before presidential election. #UgandaDecidespic.twitter.com/i4OW49j7RU

— Hamza Mohamed (@Hamza_Africa) February 15, 2016
One person was killed and 19 injured.
Police reported that Besigye supporters had been on the rampage looting and damaging property.