UN pays tribute after death of 'memorable' ex-chief Boutros-Ghali
Comments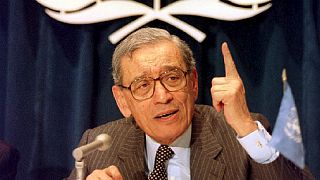 The former United Nations Secretary-General Boutros Boutros-Ghali has died in Cairo at the age of 93. He had recently been admitted into hospital.
The Egyptian took the helm during one of the most challenging periods in the UN's history in the early 1990s, as the world struggled to deal with the aftermath of the Cold War.
News of his death was announced at the UN Security Council by its president for February, the Venezuelan UN Ambassador Rafael Dario Ramirez Carreno..
It promptly held a minute's silence in tribute to its former chief, a Coptic Christian who became the UN's first Arab secretary-general, and the first from Africa.
Current UN Secretary-General Ban Ki-moon said he was "deeply saddened", describing Boutros-Ghali as a "memorable leader" who made an "invaluable" contribution to world peace, and praising him for leading the UN through a "tumultuous" period.
#UNSG Ban Ki-moon's statement on death of Boutros Boutros-Ghali: https://t.co/qrIJvdhW3e

— UN Spokesperson (@UN_Spokesperson) February 16, 2016
The world lost an outstanding diplomat & advocate for human rights.Condolences to family&friends of former #UN SecGen Boutros Boutros-Ghali

— Dalia Grybauskaitė (@Grybauskaite_LT) February 16, 2016
Boutros-Ghali served as UN chief from 1992 to 1996.
It was a turbulent time for the organisation, thrust into the limelight as a new order – and disorder – took hold in the post-communist world.
The war in Bosnia was one of several which, under Boutros-Ghali's watch, seemed to be beyond the UN's ability to deal with – although he called for far more peacekeepers in the Balkans country than he got.
He associated himself with the famine in Somalia and organised the first massive UN relief operation in the Horn of Africa nation.
But elsewhere his efforts proved less successful as the world struggled to come to terms with the
post-communist period, underestimating the intensity of many conflicts.
Boutros-Ghali was criticised for the UN's failure to act during the 1994 Rwandan Genocide.
The organisation was also seen as impotent in the face of the wars in the Balkans, and he was jeered during a visit to Sarajevo.
There was continuous friction with the Clinton administration; Boutros-Ghali reportedly called US foreign policy "utterly confused".
Washington's hostility towards him meant he only served one term as UN chief.
Thoughts with the family of Boutros Boutros-Ghali today. Led UN</a> during 1 of the most difficult periods in history. <a href="https://t.co/wJWCXObyrv">pic.twitter.com/wJWCXObyrv</a></p>&mdash; UKUN_NewYork (UKUN_NewYork) February 16, 2016
Boutros Boutros-Ghali, who led the UN as it struggled to deal with genocide in Rwanda and Bosnia, has died https://t.co/uCgJjYCiSG

— The New York Times (@nytimes) February 16, 2016