Prince Ali bin al Hussein's bid to 'clean up' FIFA
Comments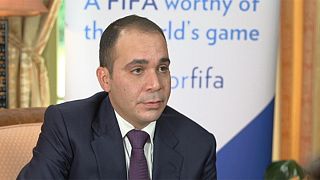 FIFA is set to elect a new president on the 26th of February amid the worst crisis in its history. Rocked by a series of corruption scandals over the last few years, world football's governing body is seeking a new leader with five candidates vying for top job. Prince Ali bin al Hussein, a former FIFA executive committee member, will stand against Sheikh Salman bin Ebrahim al-Khalifa, Gianni Infantino, Tokyo Sexwale and Jerome Champagne. Euronews met up with the Jordanian royal in Geneva.
I had two choices: to leave or to fight for real change in football
Andy Robini, euronews:
"Your highness, thank you for joining us, it has been a turbulent year for FIFA. Football's governing body seems to have lost its credibility amid corruption scandals. How can you help FIFA redeem its tainted image?"
Prince Ali bin al Hussein:
"By having a real proper change in the culture of the organisation. To be open, to be transparent in actions and not just in words. I would intend to work from within, I come from a national association, but also I would be open to bring in outside help as well to really bring the organisation to a 21rst century level in terms of how it is run. Then we can focus on what's really important and that's the development of the sport."
euronews:
"You're mentioning 'development', you have also mentioned 'transparency', effectively criticising a structure which you were part of. You were a member of FIFA's executive committee for four years, why should people trust you?"
Prince Ali bin al Hussein:
"Well I was elected by my confederation, which was going through a very difficult time and I recognised that there was a real problem, that's why I refused to remain on the executive committee. I had two choices: to leave completely or to fight for real change in football, that's why I ran for president and I intend to see it through. I'm not focused on any other candidate, I'm focused on our national associations and bringing them back to where they want to be; in a real respected and trusted organisation."
euronews:
"I understand that you're not interested in other candidates but recently, the five of you were actually invited to take part in a televised debate so you could lock horns in public but you declined, why so?"
Prince Ali bin al Hussein:
"Well there was a debate organised at the European Union. I had committed to go but quite frankly, a phone call was received to my campaign from the chairman of the electoral committee who said that there are certain members in Europe who think this might be a conflict of interest or interference and out of respect for our football associations, I decided then if that's the case I wouldn't do it. But that's the only reason otherwise I'm totally committed to having a debate, I think it's healthy but it should be with all candidates and I'm also fully cognizant that there are candidates who are avoiding even the idea of having a public debate."
euronews:
"Do you have any candidates in mind?"
Prince Ali bin al Hussein:
"I'm not going to comment but I think it is fairly obvious."
euronews:
"Candidate Sheikh Salman for example is openly advocating a move for a clear separation between the operational and business sides of FIFA – what he calls "Football FIFA" and "Business FIFA". What do think of this idea ?"
Prince Ali bin al Hussein:
"I think that we have to have a real proper structure and a real effective CEO for example. But again I would be a hands-on president. We are in a time of crisis and I think what we have learned from the past is that the worst problem is that the head of an organisation does not accept responsibility for what happens within the organisation and I would accept full responsibility for what happens in FIFA."
euronews:
Many believe FIFA is too big to control. If you became president would you restructure football's governing body?
Prince Ali bin al Hussein:
"Yes I intend to bring in some people from outside of football to advise over the first year and to help in restructuring the organisation to make it a real model for the 21st century. People with impeccable integrity and with experience in previous occupations. So yes for sure, we do need to look at restructuring but having said that what's working is not going to be fixed but there is a lot of room for improvement and I intend to make sure to do that."
euronews:
"Looking at the person you might be replacing, Sepp Blatter who was banned from all football-related activities. Did this suspension come as a shock to you or did you see it coming?"
Prince Ali bin al Hussein:
"I did not see anything coming per say but I did know the organisation was unhealthy and I recognised that by seeing the behaviour and the atmosphere in the culture. It's unfortunate and really it's a ashame that it got to the level where literally authorities in Switzerland and the United States had to intervene with what was happening and we have to clean up the organisation in the proper way."
euronews:
"I was going to say, do you think that the United States overstepped its jurisdiction in pursuit of corrupt officials?"
Prince Ali bin al Hussein:
"Well it's clearly 'criminal activity'. It's ashame it has reached that stage and I think that, as I said, I would be very much wanting to talk to the authorities and also to have FIFA cooperate with them to end this process as soon as possible because we want to get on with developing football. But I'm also cognizant, and I believe, that authorities want to know that there is a president of FIFA who is really committed to cleaning up this organisation and I am that person."
euronews:
"So with regards to 'cleaning up', have you seen the Garcia report and will it ever be published?"
Prince Ali bin al Hussein:
"Well I was, as you said, on the Executive Committee for four years and I was the first to call for the Garcia report to be published. But being an Executive Committee member myself and not even being allowed to see it, I think that's incredible and that was the reality at the time. When we talk about the World Cups in the future, we need to know what happened in the past and that is in the Garcia report. So immediately, from day one, if I am president, I would look to publish the Garcia report."
euronews:
"You are the third son of the late King Hussein of Jordan. You once said that your father had a 'disarming honesty' and 'unwavering integrity', do you believe you inherited these values and do you think the person he was will help you become a better leader than your predecessors?"
Prince Ali bin al Hussein:
"Well for sure, that's what I have grown up with. He is the greatest role model for myself in my life. He also taught me that the most important thing to do is to be in total service to people and that's what I want to do for football."
euronews:
"Prince Ali Bin Al Hussein of Jordan, thank you very much for your time."
Prince Ali bin al Hussein:
"Thank you, real pleasure."
A privilege to speak @ @genevapressclub on my plan for my 1st year as FIFA President. Watch: https://t.co/tYA6cr8gOkpic.twitter.com/1nc7tknzB7

— Ali Al Hussein (@AliBinAlHussein) February 11, 2016