Germany's ruling coalition clashes over refugee integration
Comments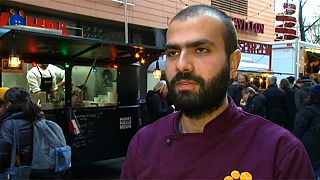 Germany's ruling coalition is clashing over how best to integrate the more than one million refugees the country has welcomed in recent months.
The centre-right CDU is calling for a six-month initial halt on refugees receiving the minimum wage if they are in an internship. Chancellor Angela Merkel's party claims that if the 8.50 euros an hour payment is lowered, employees will be more likely to offer job opportunities.
The social democratic SPD and Greens, however, say refugees should be entitled to the minimum wage. They rejected the CDU's idea outright, as SPD Secretary General, Katarina Barley, explained.
"A cut-back in giving refugees the minimum wage will not be possible with us. Because, to pit refugees against those who are having a hard time on the job market anyway, would put at risk social solidarity in our society," she said.
The CDU says refugees must be able to earn their own livelihood if they wish to permanently reside in Germany.
It says sufficient language skills,knowledge of German law and society and no criminal record are all essential.
Berlinale gives helping hand
The capital city's Berlinale film festival is aiming to give refugees a helping hand, by sponsoring initiatives aiming to integrate dozens of people into German society.
Syrian Mzkin Mattini is working in a food truck.
"The people are nice," he said. "Usually you can meet good people but actually I'm working now not for money, not for anything, just to show people we have a lot of experience, we are professional about everything, we have doctors, architects, lawyers, we have everything. Just to change how people look at refugees now."