Cameron meets Merkel in last pre-summit referendum talks
Comments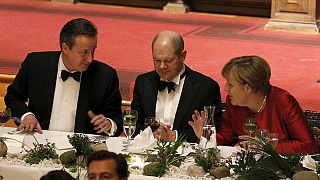 British Prime Minister David Cameron has visited Germany for talks with Angela Merkel, among the last he'll have before an EU summit next week when he hopes to agree a deal with Britain's partners on reforms.
The substance of what has been conceded and agreed on is unclear, but Cameron says that Britain is not only seeking to preserve its interests as reforms will benefit everyone.
"If by working together we can achieve these changes then I will unequivocally recommend that Britain stays in a reformed European Union on these new terms," he said.
Fears are rising the British public has had enough and will vote to leave in this year's referendum. The refugee crisis has changed many previously pro-European minds.
"You all know my opinion. I want the UK to be an active part of a successful EU also in the future…This is our German interest and , I can only say this softly, I think this is also in the British interest but also surely in the interest of all of Europe," said Chancellor Merkel in the splendid banqueting hall of Hamburg town hall.
Britain is seeking to restrict benefit eligibility for certain migrants, and have more say in the running of its affairs from Brussels. Some members support the British position, while others are very sceptical of anything that weakens the sacred principle of free movement.