Historic meeting of Pope Francis and Partiarch Kirill in Cuba
Comments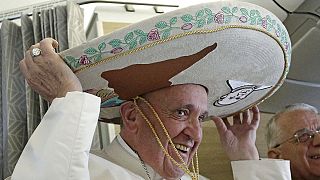 The leaders of the Roman Catholic and Russian Orthodox Churches meet in Havana on Friday.
Pope Francis and Partiarch Kirill are guests of Cuba's Communist government.
The pope was due to spend three-and-a-half hours in Cuba on his way to a long-planned visit to Mexico.
The two religious heads were expected to address a millennium-long rift between the Western and Eastern branches of Christianity.
Partiarch Kirill was welcomed by Cuban President Raul Castro, dressed unusually in a business suit.
Eastern Orthodoxy split with Rome in ten-fifty-four. The meeting is seen as an important step towards improving religious links.
"It is certain that it creates new horizons of hope for us, not only in terms of the relationship between the Roman Catholic Church and the Orthodox Church, but also in terms of the cultural value of the meeting, of dialogue and reconciliation, and I hope this will be understood by those responsible for public life in many nations," said Monsignor Jose Felix Perez, executive secretary of the Cuban Bishops Conference.
Kirill will also visit Cuba's small Russian Orthodox Church, built from 2004 to 2008.
The historic meeting was announced by the leaders just a week ago.
.Pontifex</a> hopes to end 1,000-rift during &#39;historic&#39; meeting with Russian Orthodox leader <a href="https://t.co/0qeD7qM701">https://t.co/0qeD7qM701</a> <a href="https://t.co/vMRaOI6n7B">pic.twitter.com/vMRaOI6n7B</a></p>&mdash; Fox News Latino (foxnewslatino) February 12, 2016
Cookies, sombrero and a shoe shine: Even reporters give pope gifts https://t.co/w9Xyqt9TMvpic.twitter.com/W3AZAJ4FSa

— Catholic News Svc (@CatholicNewsSvc) February 12, 2016