Greenpeace activists block truck convoy from French nuclear plant
Comments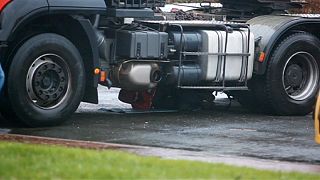 Greenpeace activists blocked a truck convoy from reaching a French nuclear plant early on Friday (February 12) to protest nuclear power in France.
The convoy was carrying the lid to the nuclear vat at the Flamanville EPR reactor (Evolutionary Power Reactor) in north-western France — the sole nuclear reactor under construction in France.
Two Greenpeace activists climbed on top of the lorry's cargo holding signs calling nuclear power a "dead end." Another laid out underneath the truck to prevent it from moving.
France has 58 nuclear reactors in 19 nuclear power stations around the country, producing 75 percent of the country's electricity.
After the 2011 Fukushima disaster, the French government voted to cap nuclear capacity at current levels and to reduce its share in the power mix to 50 percent by 2025, but Greenpeace says they have done little to achieve that goal.
French President Francois Hollande would have to close four to five nuclear reactors by the end of his term in 2017 in order to stay on track, Greenpeace said in a statement.
Reuters