The dangerous and illegal trade in counterfeit medicines
Comments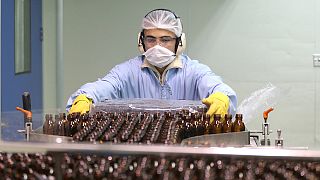 Look in your medicine cabinet, reflect on the those pills you may have taken for a recent flu. How do you know they are not fake?
Counterfeit medicines are 25 times more profitable than selling drugs and according to the World Health Organisation it is "an age-old practice which flourishes in many countries and is motivated mainly by the huge profits to be made".
Here are a few examples: Cough syrup containing antifreeze (that led to 84 deaths in Nigeria in 2009). Teething medicine for babies made from car battery fluid and false contraceptives.
Figures from the WHO show that every year between 100,000 and one million people are victims of the trade in counterfeit medicines.
The Council of Europe introduced a treaty nearly five years ago in a a bid to crack down on the practice of selling fake medicines. It provides a framework for national and international co-operation in tackling the problem.
It is not just traditional medicines like pain killers of syrups which are counterfeited but also ones for the treatment of cancer and cardiovascular disease.
WHO says of over one million deaths from malaria, 200,000 could have been avoided with good quality medicines.
A survey from 2005 revealed that 30 percent of medicines in Kenya were counterfeit, some containing nothing more than water and limestone.
More profitable than selling drugs?
There is quick profit in counterfeit medicines and without having to take too many risks. It's reported it is 10 to 25 times more profitable than dealing in counterfeit money, 20 times more than trafficking in drugs.
As an example investing 1000 dollars in trafficking counterfeit money or heroin would result in a return of 20,000; counterfeit cigarettes, 43,000 and counterfeit medicines from 200,000 to 450,000 according to The Institute of Research Against Counterfeit Medicines.
What sanctions?
The IRACM claims that in most countries the penalties for dealing and selling counterfeit medicines are equivalent to those for selling fake T-shirts or DVDs. The penalties are lower than those handed out for dealing in cocaine, crack or heroin.
In Bogata, in 2001, after a seizure of 20,000 counterfeit medicines, 10 traffickers were caught and arrested. All were released on bail a few days later.
There is not enough public information
A major survey called 'Cracking Counterfeit Europe' which has been described as one of the largest of its kind showed that 82 percent of French people said that if they had known a medicine which they bought outside of the health system could be fake then they would not have bought it.
Another survey by Sanofi, a French pharmaceutical company, of 5,000 people across Europe showed only one in five were aware of the threat of counterfeit medicines.
Which countries are most affected?
No country is spared whether it be in the third world or the US or United Kingdom.
In some sub-Saharan African countries and in South-East Asia and Latin America up to 70 percent of medicines are fake.
One of the preferred targets for the traffickers is the US where millions of people are without health insurance.
In France a national and secure health system acts as a protection against the trade in counterfeit medicines and is one of the least affected by the trade. There is a risk of poisoning from the medicines believe many who demand that dealing in such medicines is punished as a crime and not merely as a misdemeanor.