US election: Expect the unexpected in the New Hampshire Primary
Comments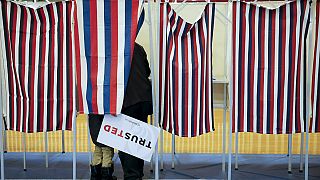 With the White House in the distance, the stakes couldn't be higher.
Yet many in New Hampshire – the second state to pick its party nominees for the November 8 election to replace President Barack Obama – have left making their mind up until the very last minute.
That is perhaps why frontrunner Donald Trump's pregnant daughter Ivanka braved the snow outside a polling station in Salem on Tuesday to make a final Primary Day appeal to undecided voters on behalf of her billionaire businessman father.
"Obviously I have a very unique perspective as his daughter but also as someone who has worked alongside of him for the past decade in terms of how capable and competent he is in an executive role, so that is amazing," she said.
"As a daughter, it is more complicated!"
Ivanka Trump thanks supporters at her father's campaign headquarters in Manchester. #fitnpic.twitter.com/bbciayLO1x via @JeanWMUR

— WMUR TV (@WMUR9) 9 Février 2016
New Hampshire's voters have a history of defying the opinion polls and of deciding late, very late.
As they emerged from their polling booth in Salem, some were asked by euronews when they had made their choice.
"Yesterday!" said one woman.
"Up until the last week, I was wavering between a couple of people and actually a couple of parties," a man said.
"I actually made the final decision in the booth but I ended up going with whom I thought I would go with," another voter added.
More than half of GOP voters are still undecided in New Hampshire https://t.co/lnIJ6ggEafpic.twitter.com/ayQKcPx0aZ

— HuffPost Politics (@HuffPostPol) 9 Février 2016
What is more, New Hampshire makes it easy for undeclared voters, known as independents, by letting them take part in either the Democratic or Republican primary. So they can reshape the race, on one side or the other, until the very last minute.
"Roughly 40 percent of the primary electorate are undeclared, evenly split between Republicans and Democrats," euronews correspondent Stefan Grobe said.
"But one fourth of them is still open to changing their minds, according to surveys. And here lies the potential for big surprises."