Cameron wins Polish and Danish backing on EU renegotiation
Comments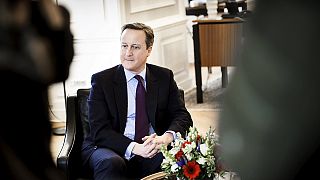 British Prime Minister David Cameron has been in Poland and Denmark as he seeks backing for his EU renegotiation plans.
David Cameron visit in PolandGettyImages</a> <a href="https://twitter.com/ZUMApress">ZUMApressBarcroft_Media</a> <a href="https://twitter.com/CorbisImages">CorbisImagesABACAPRESS</a> <a href="https://twitter.com/Imaginechina">Imaginechinadpa</a> <a href="https://t.co/crV4C4Va5W">pic.twitter.com/crV4C4Va5W</a></p>&mdash; Pacific Press Agency (PPA_NewsPhoto) February 5, 2016
In Poland Cameron's proposed welfare curbs to reduce in-work benefits for EU citizens has caused a deal of anxiety in Warsaw.
One million Poles are currently working in Britain.
However, leader of the ruling Law and Justice party Jaroslav Kaczynski appeared reassured by what Cameron had to say: "Poland and Poles have gained a lot, a full safety net, for all those who are in Britain right now, but also those who have children in Poland will continue to receive benefits, they may be adjusted, but they will get them anyway."
PM Cameron wins approval from Poland's Kaczynski on deal to keep Britain in #EUhttps://t.co/mdasvFYZ1j#eurefpic.twitter.com/Qvo2Yahq9x

— Reuters UK Politics (@ReutersLobby) February 5, 2016
The British prime minister was on much safer ground in Copenhagen where he met with his Danish counterpart Lars Lokke Rasmussen.
David Cameron forced to deny his EU deal could be REVERSED by Brussels https://t.co/dIe0lb7SH2pic.twitter.com/1aN0cTLa5A

— Daily Express (@Daily_Express) February 5, 2016
Denmark is traditionally Eurosceptic and accepted all of Cameron's ideas to rewrite the terms governing the UK's EU membership.
Speaking in London the President of the European Parliament, Martin Schultz, said Europhiles in Brussels, Luxembourg and Strasbourg are growing tired of British boat-rocking and if it wants leave the EU then it should do so.
I never thought I'd agree with Martin Schultz https://t.co/h3G66WdVSW

— Thomas Brett (@Thomas_Brett) February 5, 2016