Camel Trek: In the Footsteps of our Ancestors
Comments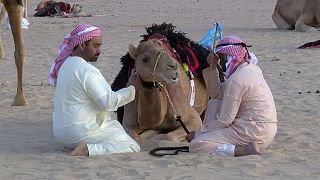 We joined the camel trek in the afternoon as the group were halfway through their 10-day journey across the vast desert in the United Arab Emirates.
Having finished their work for the evening day at around 5pm, the camels were left to rest, legs tied, with bags of sand used to stop them wandering too far.
20 travellers greeted us with tea and traditional drinks such as Karak (tea with camel milk). We then shared dinner around the fire, while enjoying the calm, relaxed atmosphere.
The group taking part in the "In the Footsteps of Our Ancestors" expedition, organised by the Hamdan bin Mohammed Heritage Centre, where mostly Emiratis, accompanied by a few foreigners. The group included Mohammed Bin Taryam, a renowned UAE explorer, who oversaw the whole trek.
It was the first time that two women had taken part in the expedition and both were treated with great respect by the group. Charlotte Sarrazin, who has been in Dubai for three years, said: "I felt more secure here than anywhere else".
While Rasheena Ahmed, a mother of two from India, who has been in Dubai for 16 years, joined the trek looking forward to 10 days of challenges and self-discipline.
The oldest member of the group was Mohammed Al Khalfani, aged 73, who was born before the UAE was founded in 1971. He told us how he had met the legendary Sheikh Mohammed bin Zayed, founder of the United Arab Emirates: "We met, we sat under the same tent, he used to come riding on his horse."
After getting a taste of the 500 km long expedition, I might just give it a try next year