Life on the frontline in Ukraine a year on from Minsk peace deal
Comments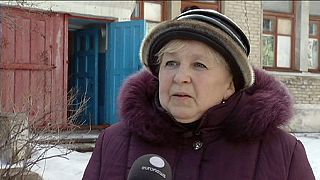 The scars of conflict run deep in eastern Ukraine and not just through the ruined homes. Zolotoe 3 is a village in the Luhansk region just two kilometres from the front line on the government-controlled side.
It is almost a year since the Minsk agreement to resolve the crisis and while the fighting has subsided life remains a daily struggle.
Svetlana is a single mother and like many of her neighbours without a job. The factory where she used to work lies on the other side of the front line in the self proclaimed Luhansk People's Republic.
"I had to leave my job in the pro-Russian controlled territory because it's not accessible at the moment, that's why we are staying here, and we can't afford to leave. I hope that when the war is over, things will go back to the way they were. Ukraine will always be Ukraine. I don't believe in anybody, neither Poroshenko, nor anyone else," she told euronews.
The local Kindergarten is deserted and closed, damaged by shelling. Only 11 pupils attend the village's primary school. Many who stayed when the conflict broke out were simply too old to leave.
"I just want people to come up with a common understanding so that peace can return and our kindergarten can be rebuilt. I still hear the children's voices…" the director of the kindergarten said, her voice trembling at the memories.
In the empty streets and ruined buildings there is an unnerving silence and little activity.
Many of the villagers who fled at the height of the conflict have returned because they have nowhere else to go. However, most of them, who used to work at the local coal-mine, are now unemployed as it has closed down because of the war. They rely on assistance from NGOs and the UNHCR.
"There is also a ceasefire since September which isn't holding perfectly, but it's holding enough for some families to perceive that they could come home. And in addition to that, unfortunately, there are many families who told us the main reason they came back is when they displaced to whichever city or town, they weren't able to find enough assistance to get by," said Jeff Wilkinson Head of UNHCR in Severdonetsk region.
According to the UNHCR there are now around 800 people living in the village. Before the conflict there was a population of 1200.
The UN agency provides what is called "winter non-food aid" to those that are in the village. There are blankets, clothes candles and coal as well as building supplies to help repair the damaged buildings as those that remain try to rebuild their lives and their homes.