Neymar appears in court in fraud case
Comments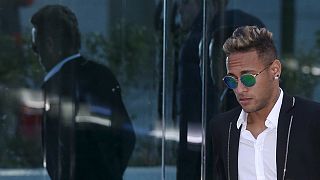 Brazilian international Neymar appeared at Spain's National Court on Tuesday as a defendant in a fraud case linked with his transfer from Santos to Barcelona.
The case was brought by Brazilian investment fund DIS, which owned 40% of Neymar's sports rights and claims it was deprived of its full share of Neymar's transfer to the Spanish and European champions in 2013.
Neymar's parents, Barcelona president Josep Maria Bartomeu and predecessor Sandro Rosell were also called to give evidence.