US: Iowa caucuses a litmus test in race for White House
Comments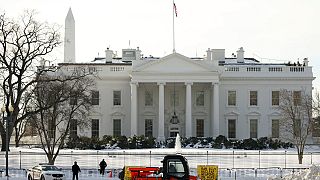 The Iowa caucuses will set the tone for the race for the White House, providing a first indication of the strength of outsider candidates like billionaire Donald Trump and democratic socialist Bernie Sanders.
But according to one political pundit, even if Sanders wins in Iowa, it may not be enough to clinch the party's nomination.
"Hillary Clinton remains the prohibitive favourite to win the Democratic nomination. She just has enormous institutional support behind her and she has a big, and probably difficult to dislodge for Sanders, lead among women and minorities," Jim Tankersley, a Washington Post political reporter, told euronews.
"If he is going to have any chance at all, he has to expand his coalition. Right now he is just appealing to highly educated young liberals."
Meanwhile, Trump, who is competing to be the Republican presidential nominee, still leads in every national poll. He has alienated Muslims and Latinos in his comments.
But the New York businessman's opinions have not been entirely outlandish, according to one analyst.
"There is a deeper reason why Trump is doing so well on the Republican side, and that is he articulated a lot of views that were actually shared by other Republican candidates, but that were too scripted and too controlled to express," said Allan Lichtman, a presidential historian at American University.
"And so Trump is actually tapping into some deep yearnings within the Republican party base."
But the mystery about Trump's campaign is whether he can convert the voter enthusiasm for his candidacy into real turnout at the caucuses.
Speaking from Washington, euronews correspondent Stefan
Grobe, said: "One thing is certain, the Iowa caucuses – and then the New Hampshire primary – will help winnow the still crowded field of candidates, especially on the Republican side, and especially among candidates representing the political establishment. They might be the first big losers in this year's election campaign."