Caught in a cave: two of Italy's most-wanted men arrested
Comments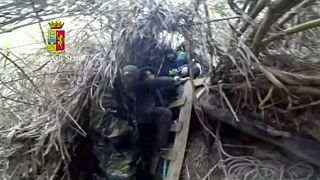 On the run since 1998 and 2006
Rooted out by heavily-armed, masked police
The news
Police in southern Italy have arrested two of the country's most-wanted fugitives.
They were living like animals.
'Ndrangheta mafia boss Giuseppe Ferraro had been on the run since 1998.
Police have been looking for Giuseppe Crea since 2006.
The men, who are 47 and 37, had been hiding out in a camouflaged bunker near the mountain town of Maropati in the region of Reggio Calabria.
Both have been convicted of a string of gangland murders and other crimes.
Crea faces 22 years in prison for mafia association; Ferraro was sentenced to life imprisonment, including for a murder conviction.
The raid was launched when the two men were asleep. No shots were fired.
Various weapons were seized in the small bunker, which also had cooking equipment and electricity.
Officers have been monitoring the site for a year.
In pictures
Dois chefões da máfia 'Ndrangheta são presos em caverna na Itália https://t.co/rOJ9zbcN2L#G1pic.twitter.com/YINqLXh0VI

— G1 (@g1) January 29, 2016
#Mafia. Deux chefs de la #ndrangheta cachés dans un bunker, arrêtés: https://t.co/hDBno5Hcmhpic.twitter.com/77G9fNfSI4

— Ouest-France (@OuestFrance) January 29, 2016
Da oggi la Calabria, e Rizziconi, può respirare con l'arresto del boss Giuseppe Crea. No #ndrangheta#forzaBartucciopic.twitter.com/60ga2sciHq

— Lirio Abbate (@LirioAbbate) January 29, 2016
Prime immagini arresto super #latitanti della #Ndrangheta Ferraro e Crea nel #bunker a Palmi trovato #arsenalepic.twitter.com/0Tbx3fAnKl

— Polizia di Stato (@poliziadistato) January 29, 2016
Who are the 'Ndrangheta?
The Calabrian word "'Ndrangheta" derives from the Greek "ἀνδραγαθία" (andragathía) meaning "heroism" or "manly virtue" (read more)
Active in the region of Reggio Calabria since the 1860s
'Ndrangheta drug trafficking, extortion and money-laundering is thought to account for at least 3% of Italy's

GDP

(read more)
305 members were arrested during Operation Crimine in 2010 (read more)
What they are saying
"They were living like animals, cut off from society. But they were still controlling other gang members from the bunker."- Prosecutor Federico Cafiero de Raho.
"They continued to control their territory with military precision"- Rosy Bindi, President of the Anti-Mafia Parliamentary Commission