Germany warns Russia against using teen rape case as propaganda
Comments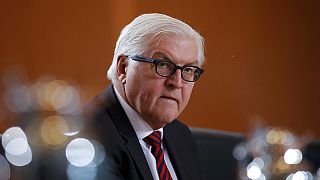 Berlin has warned Moscow not to make political capital of a case involving the alleged abduction and rape by migrants of a 13-year-old girl from a Russian émigré family living in Germany.
Emotions are running high among the Russian community in Berlin where there have been protests claiming a government cover-up.
When Moscow added to the accusations of concealment, it was a step too far for Germany's Foreign Minister Frank-Walter Steinmeier:
"There is no reason or justification for using the case of this 13-year-old girl – which is still being investigated – as political propaganda in order to influence and inflame an internal German debate which is difficult enough, the debate on migration."
A German police investigation has so far found no evidence of either abduction or rape of the girl named as Lisa but whose full identity is protected for legal reasons. The age of consent in Germany is 14 and prosecutors are investigating two men for child abuse. Some media reports allege the girl was missing from home for around 30 hours but had gone off with her Turkish boyfriend.
On Tuesday ( Jan 26) Russia's Foreign Minister Sergei Lavrov criticised the police findings.
"I hope all those problems of migration and the one involving our girl called Lisa will not be swept under the rug especially when the news of her disappearance was concealed for quite a long time. I really hope that those migration problems will not lead to attempts to polish reality with political correctness."
#Russia wants explanation over #Germany's handling of 'teen rape' case https://t.co/Y8uDLB8IKEpic.twitter.com/AfZzX0Rt7m

— dwnews (@dwnews) January 26, 2016
The German authorities are already under pressure after a wave of sexual assaults over New Year in the city of Cologne, which have been blamed on migrants. This case is further inflaming anti-migrant sentiment and more criticism of the government's liberal refugee policy.