French justice minister resigns over anti-terror plan
Comments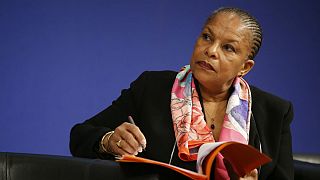 France's outspoken justice minister, Christiane Taubira, resigned on Wednesday (January 27), just as parliament prepared to examine a constitutional reform plan she openly criticized.
The left-wing minister had long been the bane of French conservatives. She spearheaded the law allowing gay marriage three years ago and many on the right accused her of being soft on crime.
But Taubira was often at odds with her own government's policies.
She confirmed her resignation in a tweet, saying that resisting sometimes meant leaving to stand by your beliefs.
Parfois résister c'est rester, parfois résister c'est partir. Par fidélité à soi, à nous. Pour le dernier mot à l'éthique et au droit.
ChT

— Christiane Taubira (@ChTaubira) January 27, 2016
The news came just as parliament prepared to debate a controversial constitutional reform that would strip dual citizens of their French nationality if they are convicted of terrorism.
Taubira has openly disagreed with the plan, championed by the government in the wake of the November 13 Paris attacks. She called it discriminatory and useless in preventing the radicalization of French nationals.
President Francois Hollande's office said Taubira would be replaced by Jean-Jacques Urvoas — a Socialist lawmaker widely seen as more supportive of the government's line on security issues.