Pay up or push off immigration law passes in Danish parliament
Comments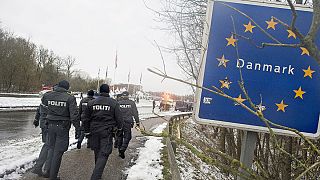 Despite Denmark watering down its new immigration law, passed in parliament on Tuesday, it has faced harsh criticism for it. But several lawyers and NGOs estimate that other EU members will follow suit with laws of their own, as more states try to curb an unprecedented influx of migrants and refugees.
Among the so-called "jewellery" bill's most controversial measures is the one which allows police to search migrants' luggage and seize cash and belongings exceeding 1,340 euros. Only items of sentimental value will be exempt.
A shameful law, and a shameful vote say the law's critics, some of whom compared it to the Nazis' seizing of gold and valuables from Jews and others during World War II.
The Danish government has been repeatedly forced to defend its policy.
"We're simply asking that if asylum seekers – in the rare case where they do come with enough means to pay for themselves then – following exactly the same rules as for Danish citizens wishing to be unemployment, on unemployment benefits – if you can pay for yourself, well then you should pay for yourself before the Danish welfare system does it," said government spokesperson Marcus Knuth.
Few people believe the seized cash and goods will raise any significant amounts of money.
But several institutions such as the Danish Institute for Human Rights are convinced that the focus on seizing valuables has shifted attention away from even more serious aspects of the bill.
"From a legal point of view, the most problematic issue is clearly the rule to limit family reunification so that some refugees can only seek family reunification after three years. And we find that a quite clear basis in international human rights law to say that is a violation of the individual right to family life," says the Institute's head Jonas Christoffersen.
People fleeing indiscriminate violence rather than individual persecution might have to wait three years instead of one before applying for family reunifications.
And once the application has been filed, the process can take years.
The waiting time has prompted allegations that Denmark will violate the European Convention on Human Rights, the UN Convention on the Rights of the Child, and the UN Refugee Convention.
But other countries in Europe have similar legislations. Switzerland, (which is not a member of the EU, but it is part of the Schengen Agreement), takes valuables worth over 900 euros from people seeking asylum in the country.
And German authorities are following on the same path. Officials in Bavaria and in other southern states have started confiscating jewellery, valuables and cash from refugees entering the country to make them fund their stay.