Brazil sends in troops to help eradicate mosquito-borne Zika virus
Comments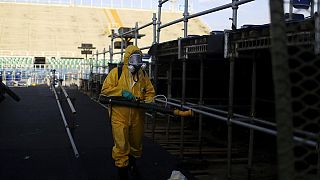 Brazil has warned it's losing the battle against the spread of the Zika virus which is suspected of being responsible for a dramatic rise in the numbers of babies being born with unusually small heads.
The mosquito-born virus has now spread to over 20 Latin American countries and territories with the health ministries in El Salvador, Colombia as well as Brazil advising women to delay becoming pregnant to avoid possible risks.
US officials are stepping up efforts to study the link between Zika infections and Microcephaly as so far the World Health Organisation says there is no proven link:
"The association between Microcephaly and Zika so far is mainly a circumstantial association, laboratory tested only in about 8 cases (((where either foetuses or dead babies or mothers then were tested positive for the Zika virus)). But of course the huge increase of Zika, especially in north- eastern Brazil, and the rise of Zika cases gives a lot of reason for concern and now the big task is to try to establish the link here," said WHO spokesperson Christian Lindmeier.
The virus was first identified in Uganda in 1947 and was unknown in the Americas until 2014. In itself the virus is usually relatively mild, with symptoms such as a skin rash and a feve. It's spread to people through the bite of an infected mosquito. But the biggest concern is the potential impact on babies developing in the womb.
With more than 3,500 reported cases of microcephaly in Brazil alone since October, the country is one of the first to deploy thousands of troops (220,000) to help in mosquito eradication efforts. But health experts have warned that this year's Carnival celebrations could aggravate the spread of the virus.
Earlier this month, the U.S. Center for Disease Control and Prevention warned pregnant women to avoid travel to 14 countries and territories in Latin America and the Caribbean affected by the virus. However travel agents and hotel operators in Brazil say the Zika scare has yet to lead to many cancellations from would-be visitors.
Brazil is "badly losing" the battle against the #ZikaVirus, says health minister https://t.co/4EDFdZUUb6pic.twitter.com/iQHRWKvN0m

— Newsweek (@Newsweek) January 26, 2016