Jeremy Corbyn labels conditions at France's refugee camps 'a disgrace'
Comments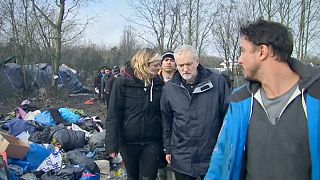 Leader of the UK's Labour Party Jeremy Corbyn has labelled the conditions at refugee camps in northern France "a disgrace."
His first trip abroad as Leader of the Opposition has taken him to the so-called Jungle camp in Calais and Grande-Synthe in nearby Dunkirk.
Corbyn urged Europe to do more to solve the migrant crisis.
"We have to do our best — all the countries in Europe, including Britain — to reach out and help these children and help these people. These are children who want to learn, want to develop their lives, want to contribute to the society for all of us. That surely is a simple human message that we can all reach out to. And I want to say a big thank you to all the volunteers that are here helping."
The Labour leader said his visit was to highlight the plight of families from war-torn countries who are trying to join relatives in the UK.
The trip coincided with a demonstration in support of migrants, near the port in Calais. British people were among those demonstrating.
Omar, a demonstrator from Paris said:
"Being here is important. It shows solidarity towards migrants everywhere in Europe. Particularly here in Calais, but everywhere in Europe. We're showing solidarity towards those who flee from wars, who flee from ecological disasters."
During the rally, a reported 50 migrants boarded a ferry while it was unloading, disrupting services from the port.