Setting emergency standards for aid and education
Comments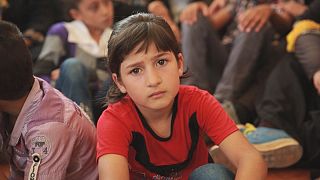 Record numbers of people are displaced globally due to war and persecution. Effective humanitarian assistance is more important than ever. Two initiatives are preparing those on the ground to produce a strong emergency response.
Emergency education is a participation between all the organizations and we have to work on this
Grass roots and grounded
Setting new standards in crisis education
With more than 11,000 members, one organisation has established a global network that aims to ensure the right to quality, safe education in emergency situations. Its training is being applied in the Zaatari refugee camp in Jordan.
About 80,000 Syrian refugees live in the Zaatari camp on the Syrian border. For many of the children this means going to a new school, if places are available. Haneen is an education assistant, today she welcomes children and their mothers who want to share their concerns.
"Any problems that your children will face at school, our office is open for you and there are some social workers and specialists who will take care of this problem," says Senior information assistant, Save the Children, Haneen Abu Halawh.
Thanks to training from the International Network for Education in Emergencies, (INEE), Haneen thinks she has developed her personal skills and learnt how to better involve refugees in a community.
"I am able to get more cooperation, more partnership from the Imam in the mosque, the Syrian volunteers, Syrian teachers working with us in the schools, so we can reach a more targeted audience with the key people we work with," she says.
Haneen learned her skills at an INEE training course in the Jordanian capital Amman, together with members of national and international NGOs in order to improve education in times of crises.
The platform can count on more than 11,000 members in about 170 countries. At the training
programme in Amman, the participants were taught INEE's own Minimum Standards to provide quality teaching. The 19 Standards have been used by hundreds of NGOs, UN agencies, donors and Ministries to develop and strengthen education programs and policies in emergencies.
"We show them how the minimum standards can be used to help them identify the key actions that they should follow, after this training, to reach the standards of education in emergencies," says Ahmad Rababah, a Teacher coordinator for Relief International.
The INEE handbook's aim is to ensure that education initiatives provide a solid basis for post-conflict and disaster reconstruction. During training, Haneen learned that almost every education worker faces the same challenges.
"I noticed that emergency education is a participation between all the organizations and we have to work on this, we have to implement it in the rescue programs, in international rescue programs and emergency education," she concludes.
During training, the global INEE method is put into context in order to adapt it to the local environment.
"We are doing a very basic thing. We are ensuring the access how we can implement the standard. But, when they got this training, they feel more comfortable. They feel empowered," says UNICEF's Farrukh Wazeem Mirza.
In the next 3 years, INEE aims to grow to 15,000 members in 190 countries and to strengthen its services to the members, to provide more opportunities for them to contribute to the network's activities.
The Complete Package
Because 'Aid Worker' is not a normal job
Many people want to work in the humanitarian sector but studying for it is often very theoretical. Bioforce is one of the few schools worldwide that takes a practical approach. It includes putting students through an 'African adventure' in the heart of France.
At the Bioforce school in Lyon, Espérance is learning how to become a humanitarian aid worker. For the next three days, her class will be simulating a mission in a refugee camp.
"We're playing a local NGO called "Food for all". We'll be going to Kenya to manage a humanitarian aid mission," says Espérance Murekatete.
Bioforce offers short and long training courses for a whole range of different humanitarian professions. They take between three days and three years depending on objectives and professional experience. The intake is approximately 250 students every schoolyear, mostly from French-speaking countries. Espérance is from Rwanda.
"During the incidents in Rwanda in 1994 and the genocide against the Tutsi I sought refuge with the International Committee of the Red Cross. The ICRC let us stay during the genocide and then offered us work, because there was nothing left in the country. I've been working for them for 21 years now."
The last preparations are underway to set up a fake camp and a medical centre in the rural surroundings of Lyon. The Bioforce students have become members of NGOs, every one with a different task.
Espérance is the the technical consultant. She has to prepare documents to get the group through customs.
The customs office is supposed to be in the north of Kenya, almost 6,000 kms from Lyon. In fact it is just down the road.
"Let me remind you of our mission's challenges. We're in Nairobi in Kenya, but we'll have to go north Kenya to the district of Chamousset to launch our humanitarian programs," says Bioforce teacher Hubert Debombourg.
But not only the students will be playing roles.
Hubert Debombourg has a surprise for his students;
"The teachers will change roles and adopt different functions such as a policeman, a customs officer or afterwards of a local authority."
Bioforce already checks certain capacities when choosing its future students: What experiences do they have? Are they psychologically and physically resilient? How do they behave in a group?
"It's important for the exercise to highlight some activities which will be directly linked to students' professional challenges," says Debombourg.
It is not with a very warm welcome that the fake Kenyan customs officers stop the Bioforce convoy.
They hustle the aid workers around, bark orders, issue threats, ask questions and search everything…
Teacher Sébastien Girault applies experiences he learned during his humanitarian missions in Afghanistan, Liberia and Darfour.
It includes humiliations, anything to break the spirit or provoke the wrong reaction from one of the trainees.
"Very strict controls are possible, even far worse than that. If an authority wants to slow down humanitarian aid, it can focus on very minor details in the paperwork to slow down action," says Sébastien.
It can lead to fines being imposed, or arrest, or worse. Three trainees get caught out; giving the
wrong information, or apparently inappropriate behaviour. Because of that, they are arrested.
"I was in prison, because there was a wrong number on my Visa request. However, it didn't take too long. They tried to put some pressure on us, but it was ok," says Ségolène Glikmanas, learning the hard way.
Finally the three NGOs set up a camp with all their supplies. The refugee aid can start.
In a few days Espérance and the other students will have ended the training in Lyon and will be starting an internship in the field to finish the emergency course.
"I think we'll keep in touch because we created a Bioforce network, and then we'll meet in the field. The world is round! We'd like to meet again at a mission somewhere," says Espérance.
Useful links:
WHO
Now over to you. Have you experienced learning or teaching in an emergency situation? Remember you can get in touch with us on Facebook or Twitter