Rohani visits Europe: what's on the agenda
Comments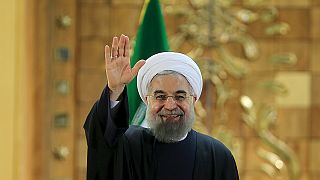 Iran's president's visit to Europe was scheduled for the 14 and 15 November 2015, but postponed as a result of the terrorist attacks in Paris. Over the interim two months, the pace of events in Iran, but also in the Middle East have turned the purpose of the diplomatic trip on its head.
The crisis between Iran and Saudi Arabia, the enactment of the Iranian nuclear agreement and the lifting of sanctions; a new ballistic missile test by Iran; and the historic drop in oil prices will be at the front of Hassan Rohani's mind.
 
Economy
International and unilateral sanctions imposed on Iran since 2006 have posed enormous challenges to the economy. Rouhani's government has so far managed to control inflation.
However, the Iranian economy is suffering from "unprecedented" stagnation.
Tehran needs new investment to revive its economy. After a decade of dependence on Chinese entrepreneurs, Iran is looking to its former European partners, including France and Germany.
The return of the Islamic republic in the world oil market, has further depressed energy prices, forcing the government to present a budget to the National Assembly showing a significant deficit.
Iran has been trying for years to reduce its economic dependence on oil. The search for new markets for the export of non-oil products in Europe and on the one hand and, on the other, European technology to improve Iranian industrial production, is a key objective of the trip.
Regional policy
The diplomatic crisis between Iran and Saudi Arabia has had a profound impact on relations between Tehran and the rest of the Muslim world.
Despite the strong presence of the Iranian contingents alongside the Iraqi government and the army of the Assad regime in the context of the fight against the Islamic State, much of the Arab-Muslim states are resistant to the role of the powerful shiite state.
Given the situation and contrary to its traditional "pan-Islamist" approach pursued since the 1979 revolution, Iran is seeking reliable allies in the non-Muslim world.
Following on the positive results of its military and economic cooperation with Russia, Tehran is now pursuing a policy of rapprochement towards Europe.
Rohani is trying to reassure European leaders that recent test of a new ballistic missile, will not threaten the security of Western countries and that it was purely a defensive ploy.